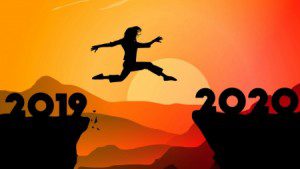 At this time of the year, most articles, podcasts, webinars and such are asking you to focus on what you didn't accomplish over the past year. Facebook posts are commenting that the writer is happy to close the door on 2019. That it was a terrible year.
I prefer to look back with gratitude for the many blessings. Of course, like everyone else, there were speed bumps and some lessons to be learned along the way. And, I am grateful for the learning. A life with no challenges would be quite boring, don't you think?
I am not suggesting a Pollyanna approach to the 2019 farewell wave. Rather an acknowledgement that there were also many achievements, blessings, happy interactions, new acquaintances, gifts given and received, and so much more. Let the year in review be an uplifting exercise instead of a flogging. Go into 2020 with open arms, ready to receive its miracles, gifts and adventures.
If you notice that you didn't accomplish something – say, for instance, you didn't reach six figures, and that was a goal for last year. Don't beat yourself up… just add the word, "yet" to your statement. "I haven't reached six figures yet in my business." Instead of weeping over failing, you brighten at the prospect of reaching that goal in the coming year.
I wish you a prosperous and joy-filled New Year.