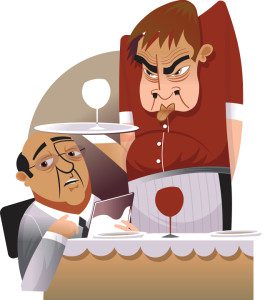 Last week, my daughter and I flew to Vermont to visit my Mom who is experiencing the effects of several mini strokes. She has lost much of her ability to communicate, and her vision is impaired. We ache for her and feel helpless to do much to change her circumstances. At least she is well cared for by the staff at the Senior Community where she lives.
My brothers and I are grateful for the loving care Mom receives from the nurses and team. It is evident that they don't put on a show just for us when we are visiting. Every one of them is caring, patient and attentive.
It's service in the best sense of the word. The assistance provided is about the customer — the person who benefits from the work. Their motto is: "Our ability to respond is your whole reason for living in our community."
Now for the other side of service. My brother, sister-in-law, daughter and I went to dinner at a local restaurant. We go there every time we visit because the service and food are excellent. But this time, while the food still rated a 10 the server was barely a 4.
How's that? I ordered the very same dinner as my brother, but while he got chowder, I got none. My brother intervened and my chowder came. The server said, "I know you asked for the same dinner as him, but you didn't order the chowder." Huh?
Usually this restaurant serves popcorn with drinks, but not this time. The server's excuse: my brother distracted her on her way to get the popcorn when he asked for my chowder. In other words, it was our fault, not hers.
My brother ordered a beer and the wrong beer was served. My brother is not a fan of fruity beers, and he can tell by the taste what is fruity and what isn't. When he mentioned that the beer wasn't what he ordered, the server didn't offer to get him another. She stated, "Well, I brought you what you ordered."
Now these little interactions are minor, aren't they? They didn't impact the dinners we ordered that were truly delicious. But, this server is plainly not there for the customer. She lacks the empathy and listening awareness that would enhance her serving. She takes no responsibility for missteps. There was never an apology or even an expression of regret.
We'll go back to this restaurant and hopefully this same person won't be our server again. And I am considering a letter to the manager, not to blast the server, but to make suggestions on how his establishment might take a look at the little things that add to excellent customer service which is one of their top values. They proclaim, "We treat people right, and that's what makes new guests feel welcome, and regulars feel right at home."
It's the small things that make a big difference. Take a look at your own business, and make sure that the little things are paid attention to. Your customers certainly are noticing.
And, don't blame the customer!