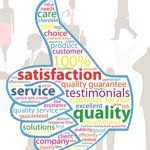 In "The 10X Rule," Grant Cardone states that customer acquisition — not customer satisfaction — should be the priority goal for businesses.
Really?
The idea that bringing in new customers needs to be the primary goal appears to be short sighted.
Some years ago, I served as a consultant to a VP at a financial institution in San Francisco. In one of the weekly meetings with her staff, the number of new clients was thrown up on the screen, and there were smiles on the faces all around the conference table.
I asked what the retention rate was. Ooops! No one knew.
The VP requested that number for the following week's meeting, and it turned out, sadly, that the retention rate was dismal. New clients were flowing in, and flowing out just as rapidly. No one had thought previously of tracking that number.
So we conducted a survey to learn why these new clients were leaving in droves. Briefly, they were not on-boarded with attention to customer satisfaction. Once they came aboard, they were largely ignored. The acquisition was great and exceeded expectations. But the idea of retention never entered the equation.
What are your thoughts about the statement that customer acquisition is more important than customer satisfaction? It's a great mind twister! Let's hear your thoughts.