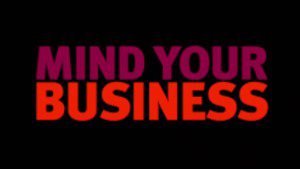 What does it mean to mind your business?
The "minding" of your business means paying attention to the basics of marketing, sales, financial systems, production, distribution, regulations, efficiencies, the customer experience and more.
The customer experience dictates all the rest. If a customer does not see you as providing value and service, there will most likely not be a second chance for you to connect with that customer.
You are familiar with the saying that you don't get a second chance at a first impression, right? This applies to customer service. You don't get a second chance if the first experience doing business with you fails the customer's expectations. How do you know what they expect? One way to find out is to ask. You'll probably be surprised at their answers. Many times they are not what you'd imagine or anticipate!
Take a step back and ask yourself what your customers see, hear and experience when they meet you and do business with you. Do they feel cared about? Do they feel special? Do they feel heard? Do they feel understood? Is it a pleasure to do business with you?
Our company has conducted many surveys for our clients to learn what their customers' experience is really like. Your customers won't tell you, the business owner, what they will freely tell us when we ask some key questions. We learn what is really important to the customers, and this affords the business owner a chance to be ever more mindful of meeting and exceeding those yardsticks.
One final observation: Just yesterday, I needed the assistance of a customer service representative to help me complete an on-line order. Amelia could not have been more diligent and accommodating. At the end of the transaction, she asked, "Have I provided you with the service you expected when you called about applying your bonus rewards to the checkout process? And did I answer your questions about our rewards application to your satisfaction?" Notice that Amelia referred to my specific problem and asked whether she fixed it and met my expectations. If she had concluded the call with a simple, "Have I provided you with good service, today?" I would have answered, "Yes". However Amelia's targeted question made me realize that she was mindful and very aware of me as her customer. Did I feel cared about? You bet! Will I be doing business with that company again. For sure!