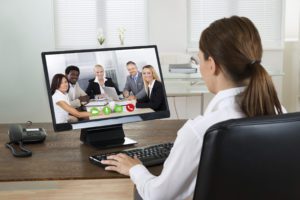 We're in a virtual interviewing world, a singularly challenging process for both the candidate and you, the hiring manager. Both sides of the interview are having to adjust. Managers and candidates have been educated to conduct in-person interviews where body language, tone and expression matter, but in virtual interviews they are no longer available in the same way. We're playing a very different game now, and both sides of the screen must learn how to connect and grab attention.
There are new details that candidates are having to learn, and managers must learn them too. Don't underestimate the fact that the candidate is virtual interviewing you and your company, even as you are interviewing them. You must show up virtually with the best professional "look" too.
Prepare & Practice
Practice making the candidates you interview comfortable. Prepare an introduction of yourself and your company or business before you launch into interview questions. Be careful though not to start probing into personal matters that can make a candidate nervous or self-conscious. Consider that if you were welcoming a guest into your home, what would you say to greet them and make them feel welcome?
Set the Stage
Make the effort and take the time for a practice I call, "setting the stage." It should include introductions; a synopsis of the job you have open; inviting the candidate to take the time to answer your questions thoughtfully; inviting them to ask questions they may have; and outlining the next steps in the interview process.
Your Speaking Style
In virtual interviews, it's important to speak in a calm and compelling style, which will help the interviewee feel more confident too. If you appear rushed or under pressure or speak so hurriedly that it's often necessary to ask you to repeat the question, it could lead to a less than optimal interview. Your lack of preparedness and consideration could lose an otherwise great hire.
Focus on Skills
Know that the current quarantine has made living spaces transform into offices. Refrain from making comments about the "home office" that the candidate is showing you during the interview. Candidates have been cautioned to find a quiet and uncluttered space for interviews, and it's equally important for you, the hiring manager, to find a space that is disconnected from noise or clutter. Keep your questions focused on the skills you are looking for to fill the job you have open. Surely you have a list of questions that will allow candidates to show they have the experience and skills to do the job… or not.
ZOOM Fatigue
We're all talking about the phenomenon of ZOOM fatigue. If you schedule interviews for late afternoon, you and the candidate may not be in the best form to showcase yourselves. Instead, consider an early morning time when you aren't weary from other virtual meetings and conversations.
Remember, everyone is adjusting to the increasingly virtual world. We're all trying to make a good impression through a screen instead of with a handshake and radiating confidence with our physical presence.
Read more blogs here