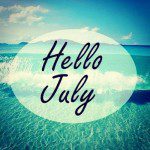 July 1st is the beginning of the rest of 2016. Half of the year is behind us. And this half-way point is an ideal opportunity to look in the rear view mirror and review our year-to-date endeavors.
Let's take a moment and honestly recognize the great things you've accomplished from January to June, 2016. Celebrate with enthusiasm what you've committed to and what you've achieved.
Then, let's take another moment and tune in to what you hope for, but haven't achieved yet. The big word here is YET. There are another 6 months ahead to reflect, consider, reorganize, and determine if your behaviors, practices, approach, feelings, thoughts, stance, strategies, etc., are helping or hindering your goals.
Are you on track? Do you even remember what goals you set at the beginning of the year? Have you exceeded your expectations? Are you close to the finish line?
LET'S BE HONEST…
If you are not overjoyed with your progress so far – if it doesn't have you doing the happy dance of success – then you have some choices. You can delete this message, keep doing what hasn't worked for the first half of the year, and continue nurturing the habits that keep you stuck. If that delusion is comfortable, then keep sitting on that couch.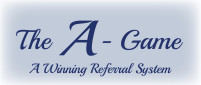 BUT…
If you really want to dig in and step up your game, get the results that are possible and knock it out of the park in the second half of this year, then we want to help you do that.
The first step to take is to sign up for the A-Game that starts on July 27th. It's a perfect way for getting faster and better results for your business. Laura W. said, "I signed up for the A-Game several times, and each time I learned something new. And my business grew every time. I can't say enough about the positive impact the A-Game has had on my business."
Go to www.lanebc.com/events right now and sign up. If I don't deliver on the promise of results that the A-Game will have for your business, I will refund every penny + $100 on your investment. I am that serious about helping you make the rest of 2016 bigger and better than ever.
Stop putting your goals and dreams aside because you're busy! Or preoccupied or swamped or whatever …
Do you really think that you'll get better results if you don't step up your game, get off the couch and strengthen your resolve and intention to just do it?
Commit to one hour per week for 10 weeks where we focus on the A's of AWARENESS, AUTHENTICITY, ATTRACTION & ACTION to build your referral based business. If you don't make this commitment to yourself, what else will you commit to?