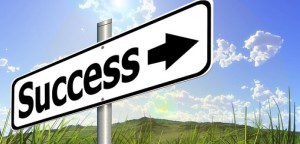 Why do some businesses never make it?
This is a question that haunts me as I coach, observe and interact with many small business owners.
My theory is that the businesses that thrive are constantly and consistently on the look out for new customers while they nurture and foster the relationships they have with their current clients and customers. They are ever conscious of both prospecting and cherishing. If the answer is this simple, then why do business owners neglect these activities?
One reason is the "bog down effect". We get caught up in relentless paperwork, meetings, proposal writing, administrative tasks and all the other distracting trivia that creates overwhelm and chaos. Focus is lost. And the distractions are everywhere.
One of my clients had been a very successful realtor and suddenly found himself with no listings.
Why? He had a room full of trophies, evidence of his many years of great success.
What we discovered in an initial coaching session was that he was doing lots of 'stuff,' but spending no time actually prospecting for those prized listings. We refocused his attention and within 3 months he had 15 listings. And the number soon grew and doubled. He now focused on the actions he needed to take to grow his business.
This realtor client became so "busy" about the non-essentials that he had stopped calling and keeping in touch with his client and referral base. His business quickly came to a standstill.
Are you letting this happen to your business? Are you increasingly busy with the non-essentials? Do you feel like you are drowning in the mountains of paperwork that never seem to get handled?
Here's another story: Paul owned a printing company for many years. In his best years, sales were $1.5 million. But with time, there had been a slow erosion of his customer base.
His primary contacts with some of his best customers had left for other jobs or moved away. Their replacements brought in their own suppliers.
Some of his customers experienced a slowdown in business and reduced the size of their orders.
A few of his customers stopped ordering completely because their own businesses were shrinking.
Other customers had been bought out by a larger company or had gone out of business.
The loss of business is usually gradual. Cumulatively, it is devastating.
Paul's sales were down more than 50,% and he was struggling. Profits were down even more.
When we started our work together, he was barely able to make ends meet. Why had this happened? We discovered that Paul had stopped prospecting for new customers. In fact, he said it had been so long since he had looked for new business, he had forgotten how!
Paul and I learned that he was spending a lot of time with people who were not buyers and were not his target market. His closing ratios were about 15% which meant that 85% of the possible business was not coming to him. We agreed that a more targeted approach would yield better results. With a plan and a list of more detailed and specific questions to better qualify his prospects, Paul started working directly with the decision makers.
His priority was to make phone calls for 90 minutes every morning for the purpose of finding new business. He quickly discovered who the legitimate prospects were and who was just price shopping. He learned that those who called with a request for a rush quote were usually shopping the market. Paul seldom was the preferred vendor in those instances. He learned not to spend his valuable time on the price shoppers.
When he started really paying attention and working his database and prospecting for new business, he found people who wanted to talk with him. He closed sales. Revenue began flowing in!
Surprisingly, there were many "old customers" who placed new orders with him. One said, "Paul, it's been several years since you last called on me. I thought you had gone out of business."
Increase the amount of time you are currently spending on prospecting for new customers while nurturing and caring for your current clients and customers. You will see more sales than you ever thought possible.
How and where you spend your valuable time can mean the difference between building your business, or seeing it erode.
I am available to help your business grow! It's time to "Take YOUR Potential to Performance!"