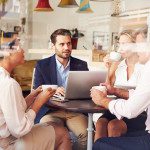 What if… you owned the most popular gathering place in town…full of happy customers who brought in so much business that you never had to advertise? Neighbors helping neighbors and business connections being made over coffee and conversation. A real bustling place – reminiscent of Cheers on Beacon Hill. You know and love the characters from that popular TV show. That really is the place where everybody knows your name. Just step inside and see why Boston Magazine chose this Pub as the "Best Neighborhood Bar" in Boston. "We're still an intimate neighborhood bar – our neighborhood has just gotten a little bigger!"
Now your business might not be a restaurant or bar or coffee shop. It might be a hair salon or real estate or attorney office – it's the spirit that we're talking about here. There is a charisma that is inviting and engaging. People are drawn to spend time there.
But – rather than this great vision, you see yourself working too many hours and not experiencing the kind of sales results you'd like. Or, you feel like you're trying everything to get more customers to your shop or site and nothing seems to be working. How can you get back in the game? How can you experience that welcoming, open atmosphere where "everybody knows your name"? Instead of drawing them in, you feel like you are chasing down customers.
Are you willing to kick aside excuses and take the actions that will improve your sales? Do you know what those actions could be? Are there things that you know you need to do to improve your sales but you keep postponing? Or do you find ways to keep yourself occupied with the crisis of the moment so you don't have to make those changes?
At one time, you had the spirit and courage to go into business. Get back in touch with that same spirit to reenergize your business.
Do you know what makes you and your business unique? If not, take the time to dig for and find that gold. You need to know what makes you stand out and what value you bring to your customers. Knowing that, influences all of your conversations and your marketing messages.
Does your competition worry you? Learn how to leverage what you – and only you – offer. You stand out and know that no one can compete with you when you know the answers to what makes you and your products and service special.
What is your vision for your business? Do you have one? Your business starts with you. You need to step into your role of the Leader in your company. What strengths do you bring? How can you leverage those strengths for the benefit of your customers?
How do you manage or mismanage your valuable time?
How do your customers and staff view you? How do you show up for them?
These are powerful questions to be asking as we come to the end of 2016. The coming holidays are a busy time for sure, and they can also be a time for quiet reflection and for planning for the coming year. If your business is on a great trajectory and you see only growth and prosperity as you gaze into your crystal ball, congratulations! Keep doing what has contributed to your success.
Be an A-game player in your business game. Play to win!