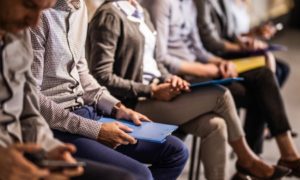 Recently the topic of ghosting job candidates has appeared in several articles and in social media about hiring managers and HR professionals resorting to this practice. Please, if this is a practice that your business or company engages in, stop it. It is not ok.
Someone – either the hiring manager or the HR recruiter – needs to get back to candidates who have been interviewed but not hired. If you have ever been in the position of looking for a job, recall what it felt like to be knocking on doors that would not open; or calling companies only to be put on forever hold or told the person you were calling was either not in or in a meeting. You left your contact information but never got a call back.
You may think that leaving candidates in limbo about where they stand regarding the job they interviewed for is an ok practice, but it isn't. There are many ways, both good and bad that a company and its personnel become known to the public. If candidates feel disrespected or treated with disregard by you, the word will get out and you could be damaging your chances of recruiting strong candidates who want to work in a healthy environment.
To ghost candidates is hurting your marketing and brand in the marketplace
If your process doesn't include communication to ALL candidates — not only the one who got the job — then fix it. Everyone deserves to know where they stand. In my days as a company recruiter, many times we encouraged good candidates who didn't get the first job they applied for to apply again for other jobs that would be coming up. I insisted that hiring managers take the time to call every person we interviewed. While a candidate will surely be disappointed that they didn't get the job, they are relieved to know where they stand and can put their attention elsewhere. Closure is better than the constant anticipation that there might come a call and an offer.
Don't be known for thoughtless behavior
It's troubling for job seekers to continue to call with no further communication, especially after an interview that they felt went well. Your job as a hiring manager isn't over when the offer has been made and accepted. It's messy and inconsiderate to ghost candidates.
Make a call or send a letter, but do make it a practice to close the circle when you are the hiring manager or HR recruiter. It's the right thing to do.
Read more blogs here