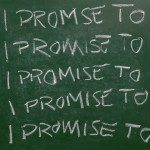 In my last blog, our focus was on promises we make to ourselves and how we keep them. Have you ever broken a promise to yourself and let yourself down? Of course you have. When I considered that question some years ago, I realized that I was breaking promises to myself more often than I cared to admit.
I was ready to take better care of my health: I'll start exercising tomorrow. I was ready to stop working 10 – 12 hours a day: I promise to spend more time with my family and friends. I was ready to get out of debt: I will be smarter about expenditures.
And of course, none of those things actually happened because my intentions and attention were not in alignment.
In my conversations with my clients, friends and colleagues, I hear that we don't live up to these commitments more often than not, and frankly, we disappoint ourselves.
If you had a friend who made promises to you and consistently let you down, what would you think? How would you react? Would you tolerate their behavior?
When I took a look at this failure to keep the promises to myself, I realized that I was treating others much better than I was treating myself. Breaking the promises to myself was a powerful message that I was not considering myself important. It gets hard to trust yourself if you never keep your word. You make a promise, but you know in your heart that you are mouthing words and really won't do the thing you promised.
The good – great — news is that when you start paying attention and keeping your promises to yourself, this accountability starts the engine of trust. Each commitment you keep adds to your trust that you will deliver. And, you can then be honest with the world around you.
I started by paying very careful attention to the promises I made to myself and making only promises I knew I would keep. I became much more realistic and specific. I kept track of my intentions and rewarded and celebrated each baby step. Our promises are made to lead to enjoying a better life: to be healthier and happier.
Sometimes it seems easier to keep promises we make to other people. Perhaps we just think it's the right thing to do, or maybe we want to be known as trustworthy. Yet we often don't apply these same reasons to ourselves. It is easier to forgive ourselves or take ourselves off the hook than to ask forgiveness from someone else!
Consider these points: When you make a promise, make sure it is meaningful; you are more apt to keep a promise that has meaning. When you set up a power struggle between your mind and body, it is usually your body that wins. Your mind wants to go for a walk, your body will hit the snooze button. Both mind and body must be aligned for you to keep your promise. Just food for thought.